After long Years Growth, Solar Employment Falls For Second Year
After years of remarkable progress. Earlier this week, the Solar Foundation released its National Solar Survey, which displays that the overall number of jobs in the industry has now dropped for the second year in a row. 242,343 people were employed in solar jobs in 2018, a 3.2% decline in the previous year. That comes after the industry contracted by 3.8% in 2017.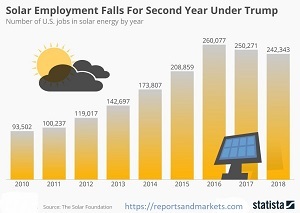 The Foundation attributed the decline to uncertainty about the result of the Section 201 trade case on solar components and cells. That made it difficult for U.S. solar project developers to price, bid and contract for future projects. The Trump administration then introduced tariffs for crystalline silicon modules and cells at 30% on January 22, 2018, with a 5-percentage point decrease each year through 2022. That caused in amplified hardware costs and restricted growth in the industry, making more difficulties for the job market.
The current setback for the U.S. solar industry is happening at a period when a host of scientific reports have called for an instant decrease in global greenhouse gas emissions. Despite two turbulent years under the Trump administration, there are brighter days ahead for the U.S. solar sector. The viewpoint for jobs in the industry is anticipated to progress in 2019 due to a backlog of utility-scale projects and new policy incentives in key U.S. states. The Foundation has forecast a 7% increase in jobs for this year, bringing the total to 259,400.

For more please visit: https://www.reportsandmarkets.com